Canopy Super Skyway / Ziplines
Experiencing the Mabira Forest canopy just makes you behave like monkeys! The first of its kind in Uganda. The Mabira Forest Canopy Super Skyway is a canopy "zip-line" system that sends you soaring between the tallest trees in the rainforest. Located 44kms East of Kampala City, outside of Lugazi town at the griffin falls camp , the skyway makes for you a great day.
You are led to pass through ancient trees by experienced Sky Captains / Sky guides across a network of 5 zip-lines that stretches 250 metres across River Musamya. Using strict International safety standards with imported climbing gears and art high ropes from America, participants are belayed up the first tree, brought through the whole system and repelled on a 78m diagonal zip. High up in the canopy one is able to enjoy a view of the forest layers, mammals like grey cheeked mangabeys and red tailed monkeys, birds like palm nut vultures, African fish eagles, great blue turacos and the roaring griffin falls, making your zip a memorable day!
The hike back from the skyway takes you past the beautiful Griffin Falls and back to the camp which offers accommodation, meals, mountain biking among others. The take a maximum of 4 hours.

Zip-line activities are done from 8am in the morning to 1pm and from 2pm to 6pm daily
The Sky way was designed and certified by the
Uganda Engineers Registration Board
and insured by the
National Insurance Corporation.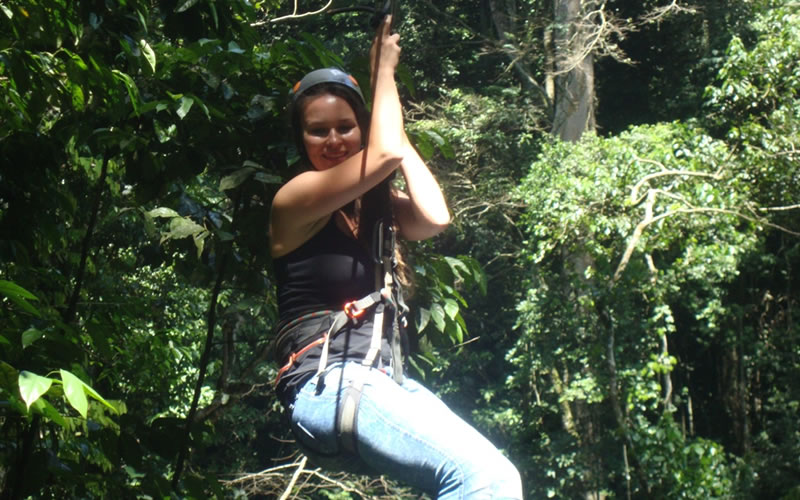 Griffin Falls Camp was created through several different grants and donations, orchestrated by Mabira Forest Integrated Community Organization (MAFICO) with the purpose of encouraging ecotourism and generating income to fund worthwhile projects.
MAFICO is a non-governmental organization (NGO) formed by the people living within and around Mabira Forest. Their mission is to improve the livelihoods and welfare of the local communities around Mabira Forest by conserving the environment through development. MAFICO encourages stewardship of the forest through environmental education, fundraising for sustainable conservation and community projects and networking and mobilization of 72 local community based organizations.
MAFICO's past projects have included constructing 1000 mud stove fuel savers to reduce charcoal usage, establishment of a tree nursery and two community wood lots, training in sustainable and profitable farming techniques as well as the creation of Griffin Falls Camp to help fund future projects.