ARCHERY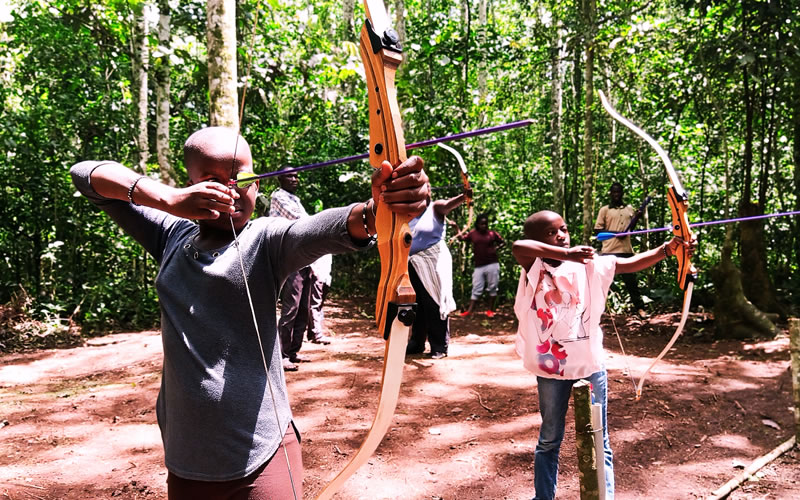 For many years tropical rain forests have been known as sources of firewood, charcoal, timber, wild meat…… but now they have become major tourist destinations for recreational activities and ARCHERY being one of them!!
The bows and arrows which are traditionally known for warfare (protection) and hunting (production) are now in the modern age turned into weapons of a sport "ARCHERY" that has been introduced in MABIRA FOREST at the GRIFFIN FALLS CAMP the first of its kind in Uganda.
Unlike athletics and football, ARCHERY is one of the least known sports in UGANDA. Though it is a cultural heritage in the traditional African society, but now a SPORT, RECREATIONAL and used as a forest conservation approach.
Archery is a sport that has been practiced from the ancient days till date. It mainly involves use of bows and arrows to aim at a target.
At GRIFFIN FALLS camp we enable you improve your aiming skills as well as having fun. The games involved as far as archery is concerned are applicable from individual level to a large group. Some of the games include:
Quick fire (it mainly involves speed and accuracy. The instructor gives a uniform start and whoever finishes their arrows first makes a shout to stop and everyone stops.)
Elimination game (the instructor chooses different colors in the archery target in every round and whoever does them correctly becomes the winner.)
Moving target (we mostly use balloons to make the aim more interesting. The balloon is tied and due to the wind and pressure you are suppose to burst it!)
sessions are hourly based but also depends on customers ability to learn and have fun.
We train with recurve bows which vary in size (large bows, medium bows and children bows) as well as traditional bows. The arrows vary with the bow used at the training.
Safety being our key priority, we always give a briefing on how to use the equipment before the session begins. Every session is undertaken with an instructor giving out instructions.
Have you ever aimed at a target without a gun, a catapult, a spear, then an arrow and a bow……………ARCHERY
Have you ever aimed at a target using a gun, a catapult, a spear, then the next is an arrow and a bow……………ARCHERY
A combination of archery and zipline at the GRIFFIN FALLS CAMP can be the most unforgettable outdoor activities in a life time.